David Malin Perry moved from this realm to the next on March 8, 2017, surrounded by his loving family. David suffered an unexpected heart attack at the age of 56. He is survived by his wife Heidi, his children Kathryn Perry (Matt) of Salt Lake, Steven (Charity) Perry of Orem, Michael Perry, Andrew Perry and Sarah Perry of Pleasant Grove, and four children from a previous marriage Jamie (Parker) Taylor, Tyler (Rhea) Perry, Erin (Chris) Jones, and Morgan (Bobby) Pombo, as well as 15 grandchildren. He is preceded in death by his son Daniel, his father Malin, and his brother Rob.
Dave was born on April 6, 1960 in Rigby, Idaho. He is the son of Marilyn Tall Perry and the late Malin Perry. He married Heidi Holbrook in the Jorda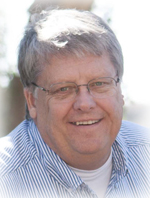 n River Temple on April 3, 1992.
Dave was an active member of the LDS church. Family and the gospel were the center of his life. Spending time with and serving his family and attending the temple were what he loved most.
An avid hobbyist, Dave loved to construct and fly model airplanes, fly kites, bike, problem-solve and garden with his wife. Dave took to heart the need to provide for his family through his vocation in computer programming. His career took him to many places in the country, and he was nationally recognized for his achievements with Salesforce.org.