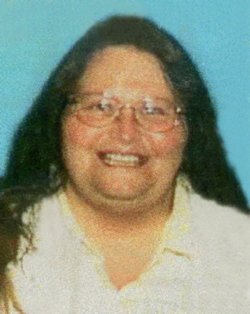 Linda Ann Vincent
1959 - 2013
Linda was given to us on December 3, 1959, and was called home by her Father in Heaven on June 21, 2013 after a long battle with cancer.
Linda was an endless bundle of smiles and laughter. She was a selfless person, always putting others first. Her greatest joy was to decorate the family home for all holidays. She especially loved Halloween and handing out treats to all the neighborhood children.
Linda is preceded in death by her father, Max Crook Vincent; brother, Mark Dee Vincent; infant sister, Margie Fitzhenry; and sister-in-law RoeAnn Vincent.
She is survived by her mother, Margie Smith Vincent, of Provo; 2 brothers: Coy Vincent and Max Vincent, of Provo; 3 sisters: Ellen Marie (Tim) Beardall, of Spanish Fork; Juanita (Robert) Reeder, of Orem; Orilyn (Noe) Arredondo, of West Jordan; several nephews and nieces, grandnephews and grandnieces, and 1 great-grandniece.
Linda has an endless number of loved ones who will dearly miss her.
Graveside services will be held at 11:00 a.m., Tuesday, June 25, 2013 at the Provo City Cemetery, 610 South State Street, Provo, Utah.