Dee Berne Merryweather, 47 of Orem passed away unexpectedly in his home on Saturday, May 17, 2008.

Dee was born May 26, 1960 in Provo, Utah to Keith and Eloise Mann Merryweather.

His family was his whole world and spent most of his time with them. He enjoyed being outdoors, camping and riding four-wheelers. Dee loved NASCAR and anything to do with cars and tools. He traveled all over the U. S. working as a journeyman lineman for CATV.

Dee is survived by the love of his life and mother of his children: Lisa Mayo Merryweather; two beautiful daughters: Lacey Marie and Ashley Dee Merryweather; father, Keith; siblings: Sky, Connie (Steve); Cory (Annette); Dana Lee (Brad); Sue (Memo); Chris (Tara); Endyn; in-laws: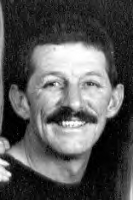 Pat (Bethany); Mike (Rhonda); Gary; Lori (Danny); Lois (Robert) and 45 nieces and nephews. He was preceded in death by his mother Eloise; brother, Scott; and sister, Jewel.