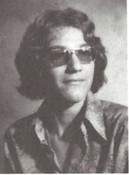 5/30/60 ~ 1/27/03

Jay Baird Haroldsen of Salt Lake City passed away peacefully at St. Mark's Hospital, January 27, 2003 at the age of 42 as a result of complications from Wolfsram Syndrome.

Jay was born May 30, 1960 in Athens, Greece, and was the adopted son of Edwin and Kathryn Baird Haroldsen. He became an American citizen at age three.

Jay lived in Iowa and Illinois and Jamaica.

Jay loved the mountains and music. He was an accomplished pianist despite the loss of his vision and hearing as a result of the syndrome.
Jay married in 1986 and was later divorced. He loved to be around people and had a wonderful sense of humor.Two brothers, Mark O. Haroldsen of Salt Lake City, Jon Scott Haroldsen of Idaho Falls, and two sisters, Sue Kenny of Rigby, Idaho and Michelle Peterson of Provo, Utah, survive Jay.

His parents and one brother, Bruce Haroldsen, preceded him in death.
The funeral will be Friday, January 31, 2003 at Holladay Cottonwood Mortuary, 4670 Highland Drive, Salt Lake City, Utah at 11:00 a.m. Viewing will be one hour prior to the funeral. Interment will be in Brigham City, Utah.
Published in the Deseret News.
http://www.legacy.com/obituaries/saltlaketribune/obituary.aspx?n=jay-haroldsen&pid=755035&fhid=4551