My darling, beautiful, caring, and talented wife Martha Frances West Glissmeyer passed away early this morning (Feb 4, 2018) at Utah Valley Hospital. Over the course of the last two months, she has had one thing after another piled on her...leukemia, metastasized breast cancer, kidney failure, and liver damage. After five hospital stays, it was time for her to say goodbye, and to meet up again with her mother and father, and others who have gone before. I'm sure it was a marvelous reunion. I am so painfully jealous of those in the spirit world who now get to enjoy her smile, her laugh, her singing, and generous, kind disposition. Currently we're aiming for Saturday the 10th for her funeral
Obituary for Martha Glissmeyer (West)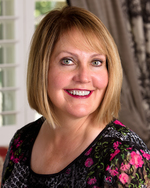 Martha Frances West Glissmeyer passed away Sunday morning, February 4th due to complications from septic shock, secondary to cancer. She was born August 9,1960 to Franklin L. West, Jr. and Frances Montrose West in Boise Idaho. Her mother said that when she was born, she sat up with her big eyes wide with excitement, as if to say, "Let's get this party started!" She had a zest for life that simply defined her.

At age six, Martha's family moved to Provo, Utah, where she lived most of her life. Martha was in the first graduating class of Timpview High School, in 1978. Throughout junior high and high school, she enjoyed drama, music, and friends. She served an LDS mission to Tegucigalpa, Honduras and attended Brigham Young University (BYU), where she received a Bachelor of Music degree in vocal performance. As a brilliant singer, she played leading roles in several operas at BYU, including Madame Butterfly, Carmen, The Tales of Hoffman, Die Fledermaus, and The Marriage of Figaro.

While student directing The Pirates of Penzance, she fell in love with the Pirate King, Eric Glissmeyer. They married August 19,1989 in the Salt Lake Temple. Martha went on to complete a master's degree at BYU in Vocal Performance/Pedagogy. Many vocal students have been blessed by her loving instruction through the years. For more than forty years, she graced the stages of Sundance, Hale Center Theater (Orem), Hale Centre Theatre (Sandy), Scera, Playmill, The Capitol Theater, and more.

Of all her roles, her most cherished were wife and mother. After ten years of yearning for children, Martha and Eric were blessed with a miracle—twins! Paul and Caroline have been her pride, her joy, and her life since their birth nineteen years ago.

As a faithful member of The Church of Jesus Christ of Latter-day Saints, Martha enjoyed serving in many ward and stake callings.

Martha is preceded in death by her parents Franklin and Frances West. She is survived by her husband Eric and their two children Paul and Caroline; nine siblings: Franklin L. West, III (Kathleen), John L. West (Janet), Joseph A. West (Lani), Stephen M. West (Cosette), Ralph E. West (Karla), Kathryn West Burnham (John), Charles T. West (Ann), David A. West (Jeanette), and many adoring nieces and nephews.

We are so painfully jealous of those in the spirit world who now get to enjoy her smile, her laugh, her singing, and her generous, kind disposition. The heavenly choir has gained a gifted singer. Martha left this world too soon, but much better than she found it.

VISITATION: Friday, February 9, 6:00-8:00 PM at Nelson Family Mortuary 4780 North University Ave, Provo, UT 84604.
FUNERAL: Saturday, February 10 at 10 AM at the LDS chapel on 4056 North Timpview Dr, Provo, UT 84604 "the red church" (visitation beginning at 8:00 AM).
INTERMENT: Saturday, Logan City Cemetery.
Listen to Martha as the soloist in this song performed by the Brigham Young University Singers.
Such a gorgeous voice. Perfect for this rendition. Til we meet again, Martha!
Here is Martha, as Katisha, in Provo High's 1977 performance of the Mikado.