Valerie Bates Ruff 1960 ~ 2006
Valerie Bates Ruff passed away on the morning of June 5, 2006, after a long and courageous battle with breast cancer. She died peacefully at her home surrounded by her family. She was 46 years old. Valerie was born April 10, 1960, the second daughter to Dan and Vernadeen Bates in Provo, Utah. She graduated from Timpview High School in 1978 and was attending BYU when she met Wesley Ruff, of Springville. They were married for time and all eternity in the Provo Temple on September 19, 1980. She had several jobs throughout her life, but the one she cherished the most was that of being a mom. Her children will miss her: Casey Ryan (Melissa), Landon Scott, and Jenny. She spent her life teaching them how to love and how to live, and showed a great example to them and others by the way she lived her life. Valerie was diagnosed with breast cancer in December of 1998. She did not want the disease to define who she was, and fought to maintain a normal life, even while suffering through great pain. But she always looked for opportunities to help others or lighten someone else's burden.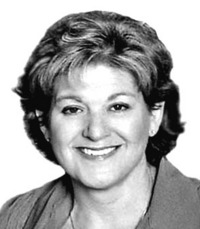 She is survived by her husband and best friend Wesley; their three children; her father Dan Bates of Provo; sisters Jacquelin (Kirk) Rasmussen of Wisconsin; Julie (Steve) White of Salt Lake; Cheryl (Gary) Bridges of Las Vegas; brothers Jeremy (Heidi) Bates of Sandy; and Chad (Jennifer) Bates of Springville. She was preceded in death by her mother, Vernadeen, who passed away on March 29, 2006.
Funeral services will be held Friday, June 9, 2006 at 11 a.m. at the Crescent View 28th Ward Chapel at 11626 South 300 East in Draper. Friends and family may call Thursday evening, June 8, 2006 from 6-8 p.m. at the chapel, or Friday morning at 10 a.m. before the funeral service. Interment at the Springville Evergreen Cemetery. Condolences may be sent at www.wheelermortuary.com
http://www.legacy.com/obituaries/saltlaketribune/obituary.aspx?page=lifestory&pid=18021341