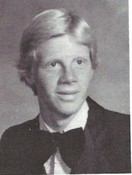 Craig was killed in a construction accident on December 31, 1997. Craig has three boys. He built homes for five straight years in the Utah Valley Homeshow. He loved his calling with the scouts and enjoyed the out of doors. Craig was an accomplished snow and water skier.
---
Craig Boyd Datwyler, 37, returned to the peace of our gracious and loving Heavenly Father on December 31, 1997. He died instantly in a construction accident in Spanish Fork.
Craig was born in Provo on June 20, 1960, to Jan and Boyd Datwyler. He married Wyn Ann McClurg on March 24, 1979. They were later sealed for time and all eternity in the Provo LDS Temple. Craig was a member of the Church of Jesus Christ of Latter-day Saints and served in different capacities with the youth. He was a successful contractor for 20 years, he loved to build and create. He enjoyed the outdoors and lived life to the fullest, he had many interests and hobbies, but most important to him was his family. We look forward to seeing you again - Daddy.Craig is survived by his wife, Wyn. L; three sons, Jared, Sean, and Derek; his parents, Janice and Boyd Datwyler; and his four sisters, Carey (Brad) Morley, Sue (Nate) Jones, Heidi (Kent) Carlson and Shauni Datwyler. Craig loved his many nieces and nephews. He was preceded in death by an older sister, Terri.
Funeral services will be held Monday, January 5, 1998 at 11 a.m. at the Northridge Stake Center, 1675 North 200 West, Orem. Friends may call Sunday evening from 6 to 8 p.m. at the Berg Mortuary, 185 East Center Street in Provo, and from 9:30 a.m. until services begin Monday morning. Interment, Orem City Cemetery.
In lieu of flowers, please make a donation to the Datwyler Sons Missionary Fund in care of Far West Bank.