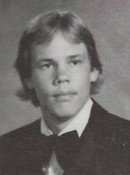 Todd passed away on December 18, 2006. At the time of his passing Todd and his family were living in Syracuse, Utah where he was working for L3 COMM.
---
Todd Freeman Robertson, age 47, of Syracuse, Utah, died Sunday, December 17, 2006. He was born on July 10, 1959 in Cody, Wyoming, the son of Dr. L. Eugene and Barbara Bird Robertson. He attended Provo schools playing football for Provo and Timpview high schools, graduating in the spring of 1978. He served in the Louisiana Baton Rouge mission for the LDS Church. He married Renae Dahl on March 21, 1985 in the Provo Temple. He attended UVSC and graduated from BYU in Manufacturing Engineering in 1989. He worked for Boeing International in Seattle, Washington, 1989 to 1991. He returned to North Ogden working for Autoliv, 1991 to 2003. After receiving his Masters Degree from Utah State University, he most recently worked for L3-Communications in Salt Lake City. Todd and Renae are proud parents of Josh, currently serving a mission in Tokyo, Japan, Tanner and Michelle who are still at home. He had a tremendous sense of humor and was the life of the party. He loved animals and treasured his two golden retrievers, Sam and Katie. In the LDS church he has served as Primary teacher, Sunday School teacher, Aaronic Priesthood leader, Elders Quorum President and was most recently the ward clerk for the Syracuse 8th ward.

He is survived by his wife and three children; Josh, Tanner and Michelle; parents; his siblings; James (Denna)Robertson, Deborah (David) Sheets, Dr. Paul (Teresa) Robertson, and Lisa (Jim) Ashton; and in-laws, Larry and Roberta Dahl.

Funeral services will be held on Friday, December 22, 2006 at 11:00 am at the North Ogden Utah Stake Center Chapel, 650 East 2600 North, North Ogden. A viewing will be held for family and friends from 8:30 am to 10:30 am at the chapel prior to services. Interment: Springville Evergreen Cemetery in Springville, Utah, 1997 South 400 East, Springville, Utah. Interment under the direction of Holbrook-Holladay Mortuary.
http://www.heraldextra.com/lifestyles/announcements/obituaries/todd-robertson/article_0eed2faf-8ac2-5d25-bc1d-8266c268648f.html